Onibegie Eco-Thermo Berets are custom and hand-made by Flamingo for South Pacific Berets. Onibegie

® is a new material with excellent wear and insulation capability. It is a feather light (50 gram) beret of beautiful intense natural colour, offering excellent protection from the sun and cold and taking no more space in your pocket than a scrunched up tissue. A relatively small diameter of 27cm, in typical Japanese beret-fashion the Onibegie appears much wider, offering more protection when worn.
The cotton lined Onibegie Berets are fitted with a comfortable size adjustable headband and the woven label of Flamingo Basques.
Available colours: Hinoki Cypress (Beige), Catechu (Acacia Tree, Clay-Brown), Japanese Chestnut (Dark-Brown) and Logwood Tree (Deep-Blue).
Onibegie® is an eco-friendly hi-tech material that uses natural ingredients to dye synthetic fibres.
Komatsu Matere has been developing materials that contribute to the preservation of the environment. One of their goals was to find how to dye synthetic fibres with natural materials. As a result of testing various vegetables, the company found that the pigment from onion skin can efficiently dye synthetic fibres. Colours are created by combining onion skins with olive leaves, squeezed olives, wine, squeezed grapes, rice husks, bamboo charcoal, etc.
Onibegie® can produce colours and textures unique to plants. For example, even the natural pigment in the colour beige comprises of dozens of colours, and that is why this colour has such a subtle depth. Another of its charms is that the longer it ages, the more flavourful the colour becomes.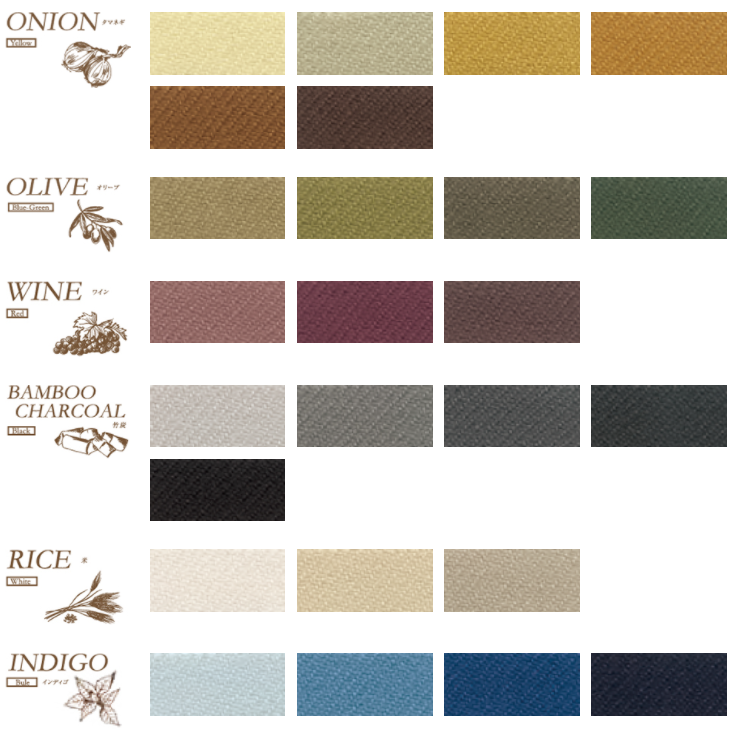 Onibegie® reflects less ultraviolet rays and suppresses the number of ultraviolet rays entering the eyes.