The berets shown on this page are often one-offs (the picture showing the actual beret on sale), sometimes stock remainders in a small number of similar berets, sometimes vintage and second hand berets. It is a constantly changing assortment of berets.
A true One-Off - handmade Sterkowski leather 'Rebel Beret' in dark blue. Size 59 (would fit 60); ca. 28cm/11" diameter, double vent eyelets, 100% cowhide, viscose lining, RRP $68.00, 1 only at $49.00!
A rare find: the genuine Adidas 2016 UEFA Cup beret!
Material 60% Wool/40% Viscose,
embroidered
Adidas logo and carrying the official UEFA EURO 2016 label. Fitted with a comfortable elastic headband (one size fit all) and 2 x 2 air vents. $42.50
Insignia German Mountain Troops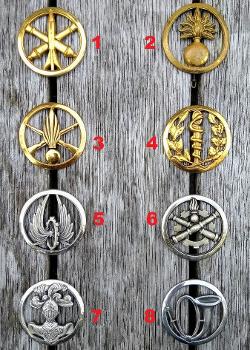 Original (used) beret insignia French army in good used condition. Only in combination with beret purchase (postage) @ $10.00.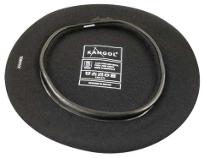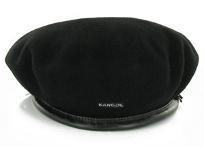 This KANGOL Monty in black M (size 57-59) is the classic KANGOL beret, modeled after the beret the company made all those decades ago for Field Marshall B. L. Montgomery. 100& pure wool, unlined with a faux-leather headband with drawstring. An easy to wear, easily packable beret for daily wear. One only at $40.00
The original Service Star is a kind of hybrid beret; the size of a large diameter Basque beret in 11.5", while having a military style <outside> rim with drawstring and three air vents on the side. Well finished beret with soft viscose lining.
A seriously comfortable and pleasant beret to wear.Only two left in sizes 59 and 60.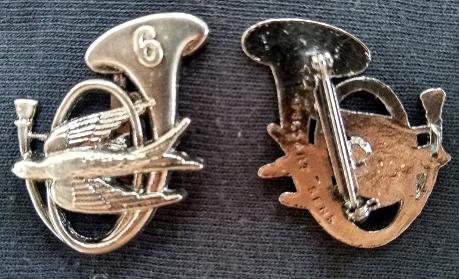 Insigne 6e Battalion Chasseurs Alpins, genuine and new badge. Free postage in combination with any beret order.
Some very different berets: Chef's Berets from Aragon (purchased by myself while in Jaca, Spain). Cotton chef's hats that are completely size adjustable, a beret that should have a place in every self-respecting cooking boinero's beret collection. Small number available at $22.50
Vintage pre WWII ID Tags Chasseurs a Pied / Alpins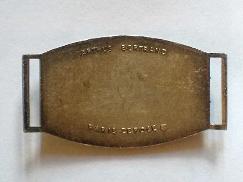 These ID tags were in use from the 1920's through WWII, based on an earlier model used during the Great War (1914-18). Depicted is the insignia of the battalion of the Chasseurs à Pied or Chasseurs Alpins. The insignia fits the classic 12mm wirelug wristwatch strap as used by British and French officers in WWI. The rear side of the insignia is blanc (apart from manufacturer's name) for engraving name and details. These are genuine, vintage tags that have never been issued.