The berets shown on this page are often one-offs (the picture showing the actual beret on sale), sometimes stock remainders in a small number of similar berets, sometimes vintage and second hand berets. It is a constantly changing assortment of berets.
The last of the Italian classic sized bascos Roma (with headband). These will not be restocked and all remaining models go at $34.95 only. Some sizes only in black, navy and brown.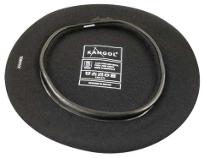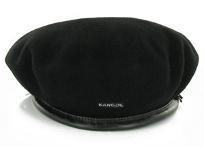 This KANGOL Monty in black M (size 57-59) is the classic KANGOL beret, modeled after the beret the company made all those decades ago for Field Marshall B. L. Montgomery. 100& pure wool, unlined with a faux-leather headband with drawstring. An easy to wear, easily packable beret for daily wear. One only at $40.00
The Black 'Mangu' with a 30cm diameter were the standard ("one-size-fits-all") berets made specifically for South Pacific Berets. 400 Berets have been manufactured and these are the very last ones available.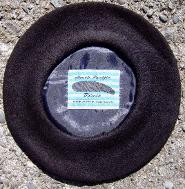 A true piece of SPB-history @ $ 35.00.
The foulard Super Basque is Laulhère's oldest foulard label that has been in production for decades until 2017. The Super Basque is a 10p/28cm diameter black beret of foulard quality merino wool (impermeable), fitted with a luxurious leather headband and black satin lining. This foulard comes in a
Laulhère gift bag. Size 59, only 1 @

$69.50
The last

2

of a very special edition of the "

Tarte Alpin

" , custom made by

Laulhère for South Pacific Berets: a 12p edition with Basque Authentique lining and label.
Dark navy, top quality heavy weight merino wool beret, sized without headband. Only in size 59, but you can move up or down one size in these headband-less tartes.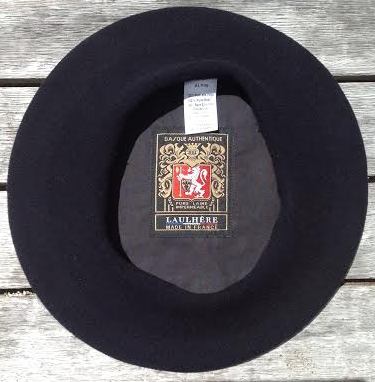 The very last of the berets by Blancq-Olibet; until 2014 France's oldest beret manufacturer. Only 2 of the brand's iconic Bakarra's left, green only, @ $42.50.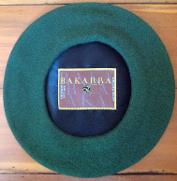 Tartan lined 32 cm diameter wool berets, custom made for South Pacific Berets in a light 95grams weight by FEZCO-TONAK, one of the world's oldest hat makers. As these berets won't be taken in production, they are true one-off, unique berets. Three colours, at the same price as the Czech Classics at only $36.00.
The original Service Star is a kind of hybrid beret; the size of a large diameter Basque beret in 11.5", while having a military style <outside> rim with drawstring and three air vents on the side. Well finished beret with soft viscose lining.
A seriously comfortable and pleasant beret to wear.Only two left in sizes 59 and 60.