A hat stretcher is an invaluable tool to maintain, or stretch, the size of your beret. Berets with headband tend to shrink slightly over time, making the beret feel too tight and leaving marks on your forehead. At the same time, the hat stretcher can be used to stretch berets without headband to a comfortable fit.
The hat stretchers sold through South Pacific Berets are hand made in the US of light fir wood with a metal buckle. To use the hat stretcher: first dampen the headband and then insert the stretcher in the band and turn the center bar to lengthen the stretcher until it is snug in the beret. From this point, you open it enough to stretch the beret out, little by little. Allow the beret to rest a day before removing or repeating.
If you need to stretch it more than a small amount, multiple stretching sessions are better than trying to stretch it too far all at once. Keep an eye on the stitching of the band - too much force can tear the seam open!
For berets without headband, dampen the wool rim (dampen, not soak), insert the stretcher and gently open until the desired width or slightly more. Leave the stretcher in for 24 hours before removing.
These hat stretchers are chosen for their light (210 grams) weight, making it affordable to be send as international parcels.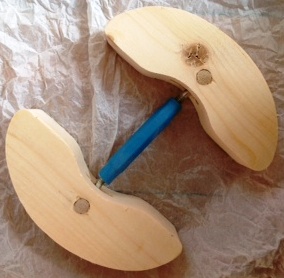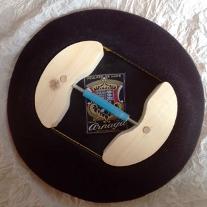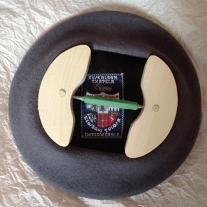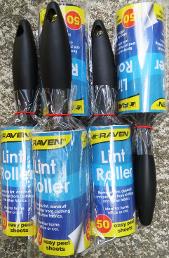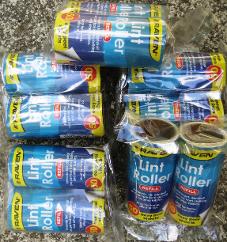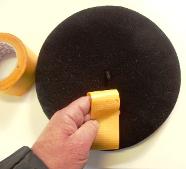 The cheapest way to clean a beret from dirt, dust, hairs, etc is by simply applying sticky tape over the surface of the beret (see picture).
Much easier, is the NZ made "Raven Roller", a roller with 50 adhesive sheets that easily peel off to expose the next. Simple and excellent and cheap too!
Refills come in a set of 2 x 50 sheets.!
Key ring with embroidered beret in black navy.
Hand made in Oloron Sainte Marie, the very birthplace of the beret!
In combination with any beret purchase @ $ 7.95.