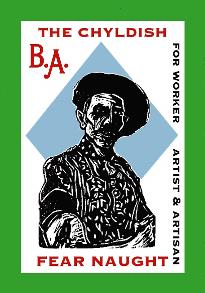 Painter, author, poet, photographer, film maker, singer and guitarist Billy Childish (born Steven John Hamper) is one of today's foremost and prolific artists. Following a long tradition in the arts, Billy's choice of headgear is typically the Basque beret, as evidenced in many of his paintings and woodcut prints.
At South Pacific Berets we have long admired Childish's work and are incredibly proud to have engaged with Billy to create a line of beautiful Fear Naught berets for worker, artist & artisan.
These berets come in black and three earthy colours, fitted with the Chyldish – Fear Naught woven label and showing blanket stitching on the cotton lining of the beret.
These berets are made in a limited edition at 50 berets per colour in three diameters: 28, 30 and 32cm. Each beret comes with a numbered certificate.