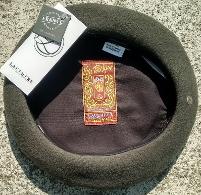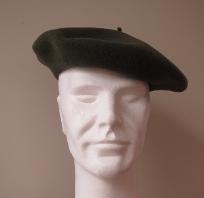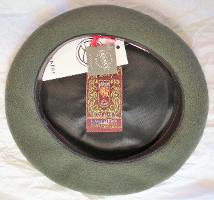 The béret Vrai Basque 10 pouces (28cm diameter) in 'vert nocturne' (dark green) is identical to the once famous Berrueta label, made by the former manufacturer Blancq-Olibet from Nay. A beret that was very popular with hikers and trampers, outdoors enthusiasts, vintners, hunters and many more. It is also the beret used by the Belgian Chasseurs Ardennais; a mountain infantry regiment that -very rare in the military- wears Basque berets (with the cabillou in place), similar to the French Chasseurs Alpins.
These berets were exclusively available through South Pacific Berets, but unfortunately, Laulhère decided not to continue manufacturing this famous historical beret from 2017.

South Pacific Berets still has a small number in stock in a limited range of sizes. For the real fans of this model beret, there are a few of the old models in the vintage 'loden green' available in sizes 57 and 58.
The

béret Vrai Basque

comes in a white

Laulhère

gift-bag.