Back in store: the original marinières
of the Chinese People Republicans Navy, the most comfortable and best quality striped sailors shirts of any navy's uniform.
These shirts are made of 95% worsted cotton and 5% spandex. Sizes run small - order one size up from your regular T-shirt size.
French government regulations of 27 March 1858 introduced the blue-and-white marinière to the French Navy's official uniform for seamen.
Sailors used to say that the stripes made it easier to see men who had fallen into the sea.
From the 1950s the marinière was worn by Pablo Picasso, John Wayne, Kirk Douglas, Brigitte Bardot, James Dean, Anthony Quinn, Rafael Alberti and many more. Much later, Sting and Madonna were part of a new generation adopting the shirt.


Some history on the Haihun Shan (

海魂衫

) or "soul of the sea" shirt:
in the beginning, these were generic undershirts for seamen in the Chinese Navy, but over the years, the shirt has evolved into a fashion and youth culture phenomenon.
Clothing during the "Chinese Revolutionary Period" was limited to three colours: blue, green, and grey. If someone owned a "haihun shan" they were envied by all – it was flamboyant and seen as fashionable.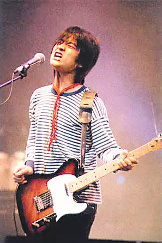 As China began to reform socially, culturally, and economically in the late '80s and early '90s, He Yong (one of three members of "Moyan Sanjie," a nickname given to three of China's early rock pioneers under the Moyan record label) adopted the "haihun shan" as his trademark. When He Yong performed on stage, he always wore the shirt together with a "young pioneers" red scarf to the delight of adoring, screaming fans. It wasn't long before the "haihun shan" came to represent the power of the first Chinese rock movement. This was the starting point of a Chinese counter-culture fashion phenomenon. From that time on, this pairing of the classic "haihun shan" with a simple red scarf spread like wildfire among music fans, particularly Chinese youth, as a key symbol of Chinese rock 'n roll.